Monday, November 11, 2013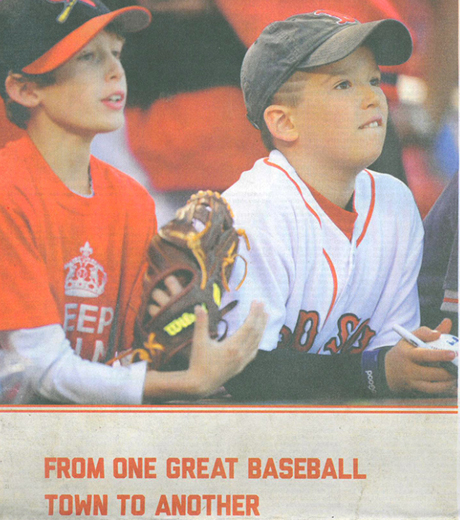 The Boston Red Sox took out a full-page ad thanking St Louis Cardinals fans for a great World Series.
They're not the first though.
As a way of thanking their World Series opponents for an exciting matchup, the Boston Red Sox decided to take out a full page advertisement in the St Louis Post-Dispatch depicting two young fans – one of Boston and one of the St Louis Cardinals – enjoying the game side-by-side
http://www.theguardian.com/commentisfree/2013/nov/06/share-your-favorite-instances-of-good-sportsmanship
Popular Posts
Here the new app dedicated expecially to woman sport's people. The sport preferred by women (but not only) is now available for free on...

4.6.5 Version of our scoreboards represents a milestone on the scoreboard panorama. With the new tablet layout, the fouls and timeout, th...

Dear all, we are proud to inform all android users and sport lovers that WATERPOLO scoreboard is now ONLINE. We received many and many ...

Scoreboard +++ starts 2013 with a bang! From version 5.10.5 it's possible to change the time left, simply with a longclik. At thi...

Dear sport friends, we are glad to inform you that this morning was published the new Scoreboard panel for Futsal (Football 5). This pane...

Despite my forecasts many, many, many users ask us a dedicated scoreboard for Handball. So.... here it is! Handball is a very popular s...

... and is a great success! With this version, Scoreboard +++ starts to be a big star App. Tablet vision is now pefect, and the app ...

First day: 85 new users. Also from Taiwan, Hong Kong and Malaysia. Here the link: http://www.nduoa.com/apk/detail/55848 A special thank...

What a strange scoring system drive Tennis game... no problem! Scoreboard +++ and Scoreboard Tennis ++ is you app. A fully guided sys...

Is now available on Android Market and NDOO (NDUOA market) the free version of Scoreboard Ping Pong ++. The free version of Ping Pong Sco...

scoreboard
sport
app
Sportsmaship
Fairplay
basketball
ping pong
baseball
china
chrono
milestone
tennis
volley
Bartali
Coach
Karen Waite
Michigan State University
Research
Ricardo Portillo
bethel
cardinals
equosolidale
fair
futsal
good sportmanship
handball
horse
league
legacy
point of reference
red soks
referee
shoah
smartphone
soccer
sportmanship
tablet
timer
touchdown
water polo
waterpolo

Follow us on

Blog Archive